Willowtrees is an international nursery school, open to children of varying nationalities. There is always one Czech and one English-speaking teacher in the class. Thus the children are not under any stress from foreign languages in a new environment. They learn to communicate naturally during everyday activities where the meaning is clear. They repeatedly assign words to situations and thus accept foreign languages just as efficiently as their native tongue. At an early age they are able to absorb any language incredibly easily and quickly. The multi-linguistic environment not only brings them knowledge of languages, but also helps expand their consciousness and develop their memory and ability to learn. Preschool children with experience from a bilingual environment are well prepared for elementary schools in English or other languages.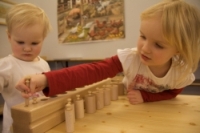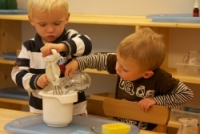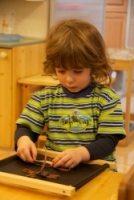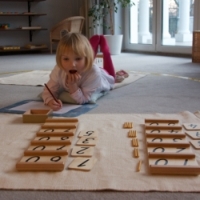 Our teachers work with the children using the method founded by the Italian physician Maria Montessori, who led children to independence, self-confidence and the joy of learning for themselves, a method that has been in use for a century in schools and nursery schools the world over.
Montessori pedagogy teaches:
Using all the senses
Using the child's own speed and approach
Spontaneously from the concrete to the abstract, from the simple to the complex
To get to know the world with its natural laws
To think within contexts
Independence, inner strength, freedom and respect
Montessori pedagogy develops:
The child's personality
The child's creativity
Self-respect and respect of others and the surrounding world
You can find more about the Montessori method at www.montessoricr.cz or www.montessori-ami.org.