The methodology of work and tools are divided into five areas:
Practical life exercises – develop coarse and fine motoric behaviour, working habits and a relation to oneself and one's environment (being independent while getting dressed, hygiene, the preparat
ion of snacks, table manners, taking care of the household, flowers, animals, polite behavioural forms)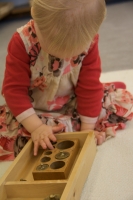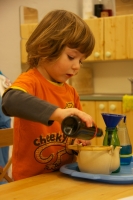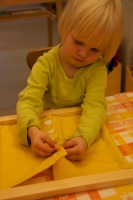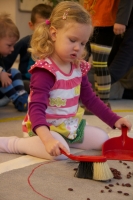 Sensorial education – works with tools for refinement of all the senses (tactile boards where the surfaces have various levels of coarseness, auditory cylinders with a variety of sounds, weight or thermic cylinders, differentiating colours, tastes, etc.)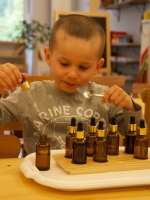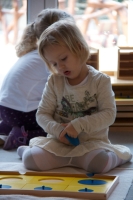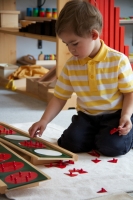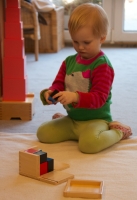 Language education – the development of speech and vocabulary, the ability to listen, understand and express one's thoughts and feelings, the preparation of a foundation for writing and reading through sensorial experiences (matching objects to pictures, telling stories according to pictures, tracing sandpaper letters with one's finger, writing in powder, etc.)
Mathematics – produce a sense for precision and differences, for perceiving and distinguishing sizes, shapes and proportions; through sensual experiences and the use of their hands the children create subconscious knowledge of mathematical laws so that the children experience joy from mathematics and can later easily assign numbers and concepts to shapes and contexts experienced by the hands (geometrical bodies, beads for representing amounts and numerical operations)
Cosmic education – includes natural sciences, geography, astronomy, biology, history, physics and chemistry and in the form of visual aids and practical experiments it helps the children to understand the world in the context of natural laws (projects on the theme of the universe and solar system, natural elements, getting to know plants and animals, nature preservation)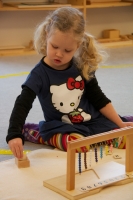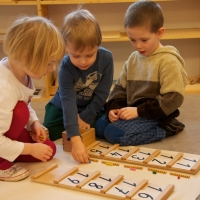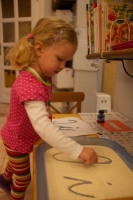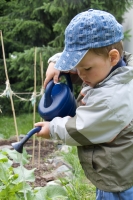 You can find more about Montessori at www.montessoricr.cz or www.montessori-ami.org, for example.