International Montessori Preschool Willowtrees welcomes children from 18 months to 6 (7) years of age. You will find us in calm, familiar surroundings, in a villa by a forest and with a garden and a gym. Here experienced teachers work with children in two mixed-age classes:
Toddler for 10 children from 18 months to 3 years of age, and
Primary for 20 children from 3 years of age to preschoolers.
Through the Montessori learning programme we primarily develop independence in caring for themselves and their environment for younger children (Toddlers) while older children (Primary) learn the basics of mathematics, languages, natural sciences, geography and history, all through sensory experience and in context.
We develop the children's language skills. During individual work, group activities, everyday functions and in the form of modelled games the children learn mutual respect, polite behaviour and the rules of coexistence.
We develop the children's social skills. Při individuální práci, společných aktivitách, běžných denních činnostech i formou modelových her se děti učí vzájemnému respektu, zdvořilému chování, pravidlům soužití.
We develop the children's interests and talents. The afternoon programme includes various activities (music, dance and theatre, yoga and aikido, arts and crafts, cooking).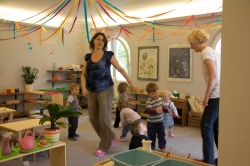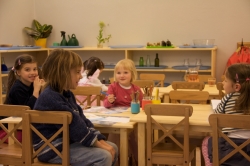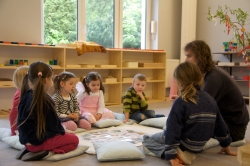 We serve high-quality organic food with the possibility of choosing a vegetarian menu.
Our mission is to create an environment for the children where they can freely and naturally grow, obtain self-confidence and become independent personalities. Our task is to help children discover their own strength and abilities and to open the door for them to discover their surroundings.
Our teachers patiently guide children on their path through the labyrinth of life. They treat them with love and respect for their individuality. They give them freedom and the possibility to choose as well as the boundaries necessary for safely discovering and learning and enjoying games. They support them in individual tasks that develop their thinking and creativity. They lead them to independence, to an awareness of their own value, to confidence in their own abilities and to self-respect and respect of others. The harmony of freedom and respect opens the way to a children's paradise.